As fans continue to demand answers and information about TitanReach, a mystery investor who allegedly donated over $1 million of the ICO proceeds is revealed in an article by this publication. The lead dev, Ryan Kennedy however has been accused of misappropriating the funds for personal use; how will he respond?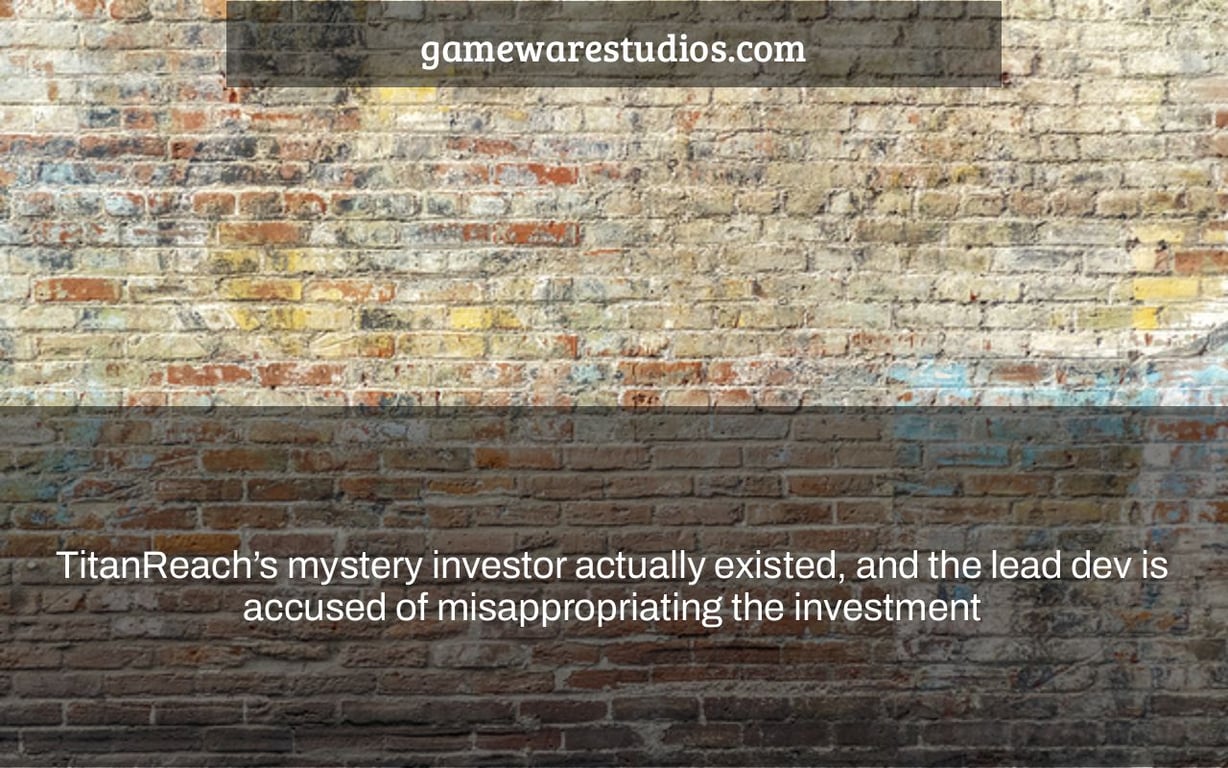 We reported just before the weekend that TitanReach, an indie MMO that had collected large amounts of money from gamers and allegedly from an unknown donor, was shutting down. We'd been following the game's antics since its failed Kickstarter, through its fictitious Indiegogo, its toxic community's behavior toward journalists, its proclamations of doom, its credit storefront with its potential for abuse, its low pay for workers, its stealth-alteration of its own incriminating statements (the Internet Archive is forever, folks), and its bizarre early access and then free-to-play model.
Last week, the game's chief developer unexpectedly proclaimed the game's demise, went into great detail regarding NFT implementation, deleted the Discord, concealed social media and Reddit, and even transferred his own Twitter profile to a new company and Kickstarter game. Over the weekend, investors and fans who had invested considerable amounts of money in the game started to share more of the story, with photos indicating that Unravel mishandled the investor funds, investing it in cryptocurrency and even purchasing a Tesla. It's all a complete whirlwind.
KiraTV, a YouTuber, has released a video in which she "exposes" Unravel for considerably worse. Readers will remember that KiraTV was one of the YouTubers who first pushed the game; in fact, he was the YouTuber who claimed to have validated the investor's existence and disbursed the funds. If Kira's new video is real, it verifies some of the claims and adds fresh information that we didn't have before. To provide an example:
According to Kira, the Discord was taken down because supporters were planning to report Unravel for fraud and disseminate his true identity, which was previously known, as well as his address and picture to harm him.
Unravel was reportedly exploring using crypto back in November, with the intention of refunding the initial player supporters. Kira was aware of the plot but kept it to herself.
Kira identifies the investor as Andre Cronje, a South African software and crypto developer, and claims Cronje is innocent throughout the incident. He seems to exist, which is something that many people, including ourselves, have questioned at times. His seeming gullibility in this scenario continues to perplex me.
Unravel acknowledged to Kira on February 9th that he had bet $150,000 on crypto and "lost most of money," according to Kira. That would have been around half of one "chunk" from Cronje's monthly money drops, implying that the firm was receiving $300,000 per month from this investor to create the game. Cronje "cut the funds" when Unravel informed him what had transpired (this was allegedly not the first time Unravel had demonstrated greed or untrustworthiness to Cronje).
Unravel then suggested to Kira, knowing Kira would call Cronje for answers, that Kira maintain quiet about everything in return for a job or a crypto windfall, according to Kira. In other words, he attempted to bribe a YouTuber. Kira claims he turned down the bribe.
Cronje wanted Unravel to shut the game, pay off staff, and settle any tax obligation, according to Kira, which Kira assumed was Cronje's choice since it was his money (the $200,000 in backer money had already been spent). This element of the tale is also perplexing — happily paying up the tax obligations of someone who misused your money.
Before the event for which Cronje cut him off, Kira says he interrogated three workers who claimed Unravel had misused monies. He had apparently purchased a Tesla, which, like the crypto investment, Cronje had specifically advised him against (contrary to his claims to backers in Discord). Kira also considers the rest of the studio's personnel culpable in the issue, with the exception of…
Another Square Root Studios employee was reportedly dismissed for impersonating Unravel in order to defraud Cronje of $250,000 in cryptocurrency. When he was apprehended, he reportedly returned $200,000 to avoid being charged; Cronje, however, allowed him to retain $50,000 due to a pathetic narrative about medical costs. The perplexity persists.
At this point, Unravel revealed the investor's identity, which he knew would lead to additional individuals contacting Cronje, so Kira felt compelled to go public, against Cronje's desires, since he didn't want to be implicated in the controversy. Of course, this means Kira was able to release a video about a controversy in which he had a crucial role, and he closes by pleading for people to forgive Unravel.
I'll conclude by appealing to your sense of sanity. For the love of God, people. Stop handing over cash to nameless randos on Discord who promise you someday-video-games.
Advertisement