Elder Scrolls V: Skyrim is back, and this time it's a remastered game that allows you to explore the world of Tamriel in 4K. We take a look at how the new version compares to past versions and whether or not this is worth your money.
Skyrim is a game that has been around for quite some time now. It was released in 2011 and the "skyrim review" is from 2017. The game has received many updates, so it's best to play on the latest version of the game.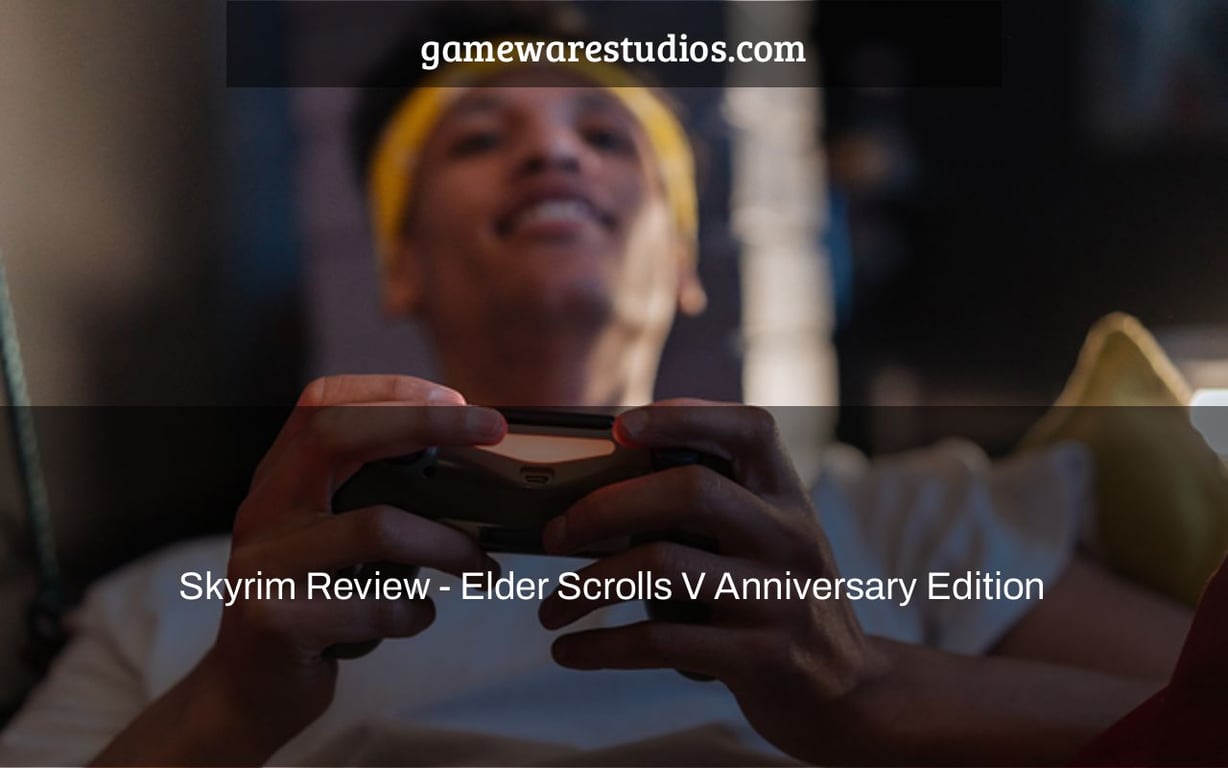 It's hard to imagine The Elder Scrolls V: Skyrim was first launched ten years ago. However, as Bethesda continues to work on The Elder Scrolls VI, much to the chagrin of anxious gamers worldwide, Bethesda is honoring a decade of Skyrim with the release of this Anniversary Edition.
It includes the basic game, three major DLC packs (Dragonborn, Dawnguard, and Hearthfire), as well as a number of Bethesda-approved modifications and a few extras.   
This is the third incarnation of the game to be published on Sony's console series, if you possess a PlayStation. It was initially released on the PS3, then on the PS4 as a Special Edition, and now on the PS5 as an Anniversary Edition. On Xbox One, Xbox Series X, and other platforms, the game is also available.
What Exactly Is Skyrim? 
For those who have been living under a rock for the last ten years, Skyrim is a massive, expansive open-world RPG with enough material to last over 200 hours on PS3 and over 100 hours on PC (my follow-up PS4 playthrough).  
The main questline should take you around 15-20 hours to complete, and it revolves on your character's rise to become the Dragonborn, Skyrim's greatest chance of overcoming Alduin, the world eater and first dragon, whose reappearance has jeopardized the planet's destiny.  
The primary mission, on the other hand, is only a footnote in the game and may be ignored for as long as you like as you explore the environment. You'll undoubtedly become distracted by the seemingly endless number of dungeons to explore, the world's lore, guilds to join (each with their own dedicated questlines), armors to craft, potions to make, items to enchant, companions to recruit, homes to upgrade, pets to keep, and skills and secrets to unlock – the list goes on and on.   
So, whether you want to play as a cunning, stealthy archer, or…face let's it, you're going to play as a cunning, stealthy archer, aren't you?! Regardless, if you've never played the game before, this version (especially the Anniversary Edition) is a must-have.  
The major issue here is whether the extra material in this version justifies veterans of the game forking over more cash for the sake of those bells and whistles we discussed before. My Skyrim review, ladies and gentlemen.
PS5 upgrade for Skyrim      
The first item worth noting is that this version of the game is available as a hard copy PS4 title for roughly $50. All new material is included on the disc, and you will be requested to upgrade to the PS5 version of the game when you first start it up.  
Don't worry, this update is completely free! Indeed, if you possess the PS4 Special Edition, you can get a free upgrade to the PS5 version of the game – but you won't get the Anniversary Edition's added features.   
Skyrim Special Edition users may upgrade to the Anniversary Edition for about $15 on the PlayStation Store (at the time of writing). This will get you instant access to all Anniversary Edition content, which is integrated into the main game and can be explored and played right away. 
Let's start with the visuals, which are a mild letdown. Because the game hasn't been rebuilt from the ground up (unlike Bluepoint Games' superb Demon's Souls remake), expecting a major graphics revamp for the PS5 is unreasonable.  
However, while I was preparing for my Skyrim review, I couldn't find any significant differences in the visuals between the PS4 and PC versions. I suppose we'll have to wait until Elder Scrolls VI to see what the PS5 is capable of in terms of graphics with this series.  
The only feature worth mentioning is that the Anniversary Edition now plays at a smooth 60 frames per second, and the choppiness of previous versions has (mostly) vanished.  
However, owing to the PS5's processing capacity, load times have vastly improved. You won't be kept waiting at the entrance to the next dungeon for a minute or more while its deep depths are loaded. Load times have been slashed to just a few seconds. This is a significant selling feature for me, as it makes the game more accessible and enjoyable than ever before as a quality-of-life upgrade.       
What's New in the Anniversary Edition of Skyrim? 
But, I'm guessing, the main reason you're reading this Skyrim review is to learn about the new material that's been added. And I can attest to the fact that it is enormous.  
Upon arriving at Whiterun, the first major town you will encounter at the end of the game's prologue, I was immediately assigned a brand-new questline by Ri'saad, the Khajit merchant outside of the city walls (Saints & Seducers).  
This required me to track down bandit caravans across the map, battle new foes, and acquire a brand-new set of armor (the Dark Seducer set), a full set of Dark weapons – dagger, sword, greatsword, and mace, as well as free a captive demented elytra nymph with whom I could converse and persuade to become my new pet! All of this happened around the beginning of the questline. 
The new Dark Seducer Armor Set is now available.
After a random contact with a courier on the road, I was sidelined with a new mini-quest, which found me as the proud owner of a brand-new mountainside property (Hendraheim), complete with everything an adventurer could possibly need (one short journey up a mountain and one mini-boss fight later).  
This contained my own forge, enchantment, and alchemy tables, a plethora of mannequins for proudly displaying my numerous armor sets, and a trophy chamber in the basement to store the rewards of my journeys.    
Hendraheim is only one of the many new configurable homes included in the Skyrim Anniversary Edition.
The majestic entry hall of Hendraheim
For me, this is a huge plus. As someone who has played the original game extensively, it's reassuring to see that the additional material has been fully integrated into the core game. This means you can access it whenever you want and in whatever sequence you choose.  
These are just two examples from a pool of brand-new content, which boasts (in addition to the Saints & Seducers expansion): the Rare Curios Expansion (including new armor sets, quests, items, and spells), the Ghosts of the Tribunal expansion, a Fishing mini-game with more than 20 types of fish to catch, Farming and Survival Mode. Plenty of bang for your buck.
The Final Word on Skyrim 
So there you have it, the conclusion of my Skyrim review. Skyrim has been reloaded with a ton of new stuff. New questlines, dungeons, monsters, armor sets, weapons, spells to cast, residences to decorate, and more are all available. 
All of this is available at your leisure in true open-world style, with a super smooth framerate and extremely short load times. 
The right to keep and bear weapons…
Is it really worth the additional cash? If you're a seasoned gamer like myself, and you're looking for something to tide you over till the next installment comes out, I heartily recommend it.  
There is hours of more stuff to explore here, and this, along with the fact that the majority of you can get this update for pennies on the dollar, makes this a very inexpensive upgrade. Is any of it required to have a good time in Skyrim? No. Is it, however, entertaining and compelling enough to satisfy your wanderlust? Absolutely.       
What are you waiting for if you're fresh to the Elder Scrolls series and have hours to spend plundering the practically infinite amount of stuff accessible in The Elder Scrolls V: Skyrim Anniversary Edition?  
The fifth chapter of The Elder Scrolls series has been around for a decade for a reason. It's fantastic. And, to be honest, if you didn't already know this, it's about time you did.  
There's never been a better moment to get started than now.    
Frequently Asked Questions
Is The Elder Scrolls V: Skyrim special edition worth it?
A: I would say that it is. The Elder Scrolls V: Skyrim special edition includes all of the DLCs, and has Bethesdas Creation Engine 8-bit graphics setting in place to look like a retro game. It also allows you to transfer your old save files over from previous editions and play them on the new engine.
Is Skyrim Anniversary Edition graphics better?
A: The graphical upgrade to the Skyrim Anniversary Edition has been slightly more noticeable. It is not a significant difference, but it does make for some slight changes in visuals that are worth noting.
Is Skyrim worth playing in 2021 ps5?
A: There are many different opinions on this topic, but I feel like it is not worth playing in 2021. But you should definitely play the game if you have never played it before and really want to give it a chance!
Related Tags
when did skyrim come out
skyrim elder scrolls
when was skyrim released