As a result, the company will focus on its sports games and release 'new types of experiences' that have been under development. Though it is disappointing news for crypto enthusiasts looking forward to Battlefield 2042 (or at least Battlefront 2) using blockchain, EA CEO Andrew Wilson believes that cryptocurrencies are here to stay.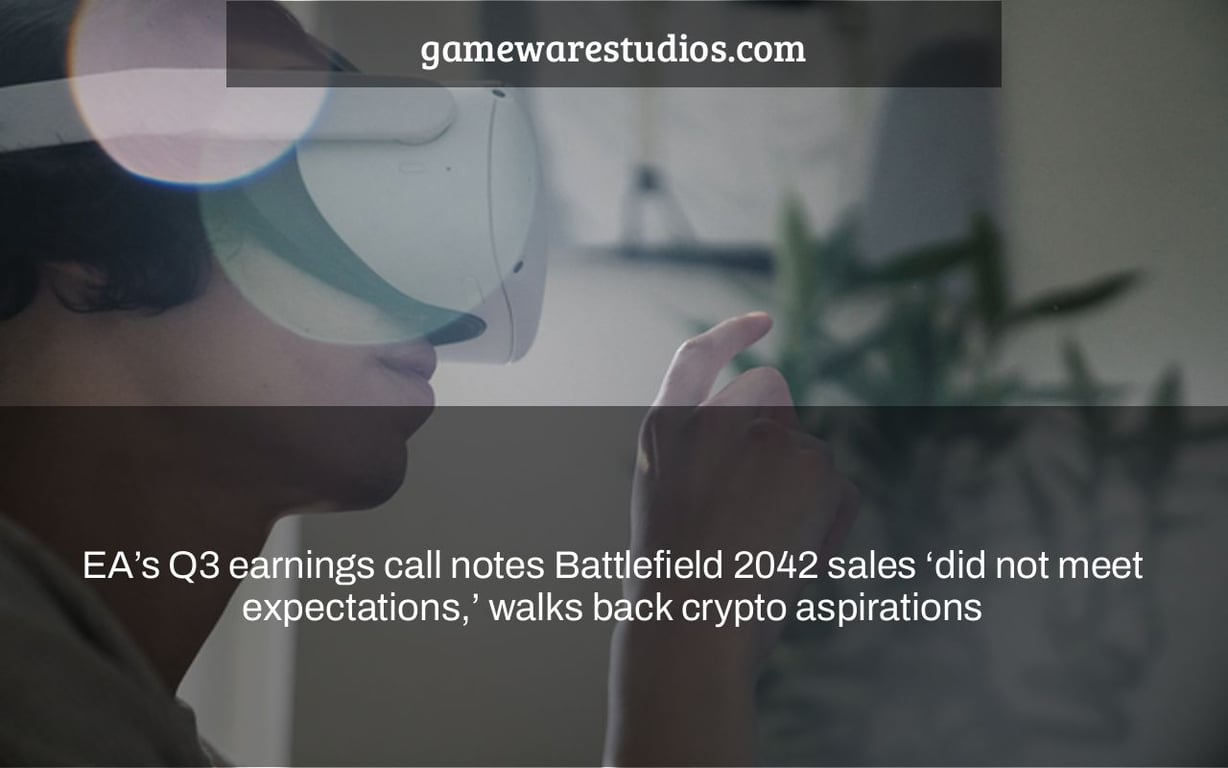 This week, Electronic Arts had their Q3 2022 conference call with investors, and it has some interesting information for our gaming community. Battlefield 2042 was one of the first topics discussed, with CEO Andrew Wilson stating that the game's launch "did not meet expectations," citing "unanticipated performance concerns" and design choices that "did not connect with everyone." Readers may remember that the shooter is considering a free-to-play revenue model.
Wilson described this fiscal year as "[one] of remarkable growth so far," stating that the studio's sports titles, Apex Legends, as well as live-service and mobile games, are "delivering high recurring revenue and year-over-year growth."
When questioned about the idea, Wilson said, "Right now it's not something we're working hard on." Another point of interest is EA's evolving faith in crypto and NFTs. Wilson had talked favourably about NFTs on the company's Q2 2022 earnings call, so this is a notable backtracking. "Anything that gets more people in and engages those individuals for longer periods of time in a setting with the degree that I believe it is a positive thing over time," the CEO remarked at the time.
The move might possibly be linked to internal opposition to EA's pursuit of NFTs: Wilson's comments on pursuing crypto received multiple thumbs down and bad emoji reactions during a discussion in a workplace Slack channel, where workers were otherwise unable to add personal responses. Following the harsh replies, a corporate communications person posting under the moniker EA Insider responded with a "joke":
"It's also remarkable to me that some people responded to the CEO's message with thumbs down and emojis like 'Do better.'" […] So, for the next round of Squid Games, let's see whether your employment badge will get you entrance in 2022 or not."
Employees saw the remark as a threat, prompting another response from EA Insider, which read, "Oh snap… I completely forgot that we're not allowed to make any kind of jokes here, and that certain people would automatically associate a bad connotation with everything. Will delete the comment and guarantee that EA Insider is completely bereft of life." The tweets were quickly retracted by a senior communications representative, who assured staff that they would not be fired for disagreeing with Wilson's views and that the "effort at comedy" had "stepped a line."
Advertisement